Disabled Toilet Alarm Systems
The CSL disabled toilet alarm system is designed to meet and exceed BS8300 for emergency signalling systems for disabled persons. In the event of an emergency, ceiling pull cords can activate audible and visual alarms to seek assistance. Reset plates are mounted inside of the toilet to ensure that resets are only generated at the source.
Download the Brochure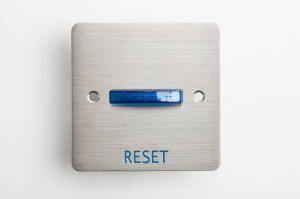 CSHK1/RS/SS
The stainless reset unit has a blue engraved legend 'RESET'. When a call is activated the reset switch illuminates and the internal sounder activates. The call is reset by simply pressing the reset switch. The reset switch is supplied with Braille legend on the switch piece. Flush Mounted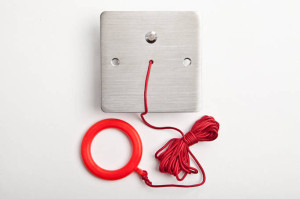 CSHK1/PC/SS
The stianless steel pull cord unit is supplied with a red plastic ring. An extra ring is supplied to conform to 'Approved Document M'. The second ring should be fitted lower down near floor level. Activating a call is simply made by pulling the cord. This will activate the re-assurance indicator on the pull cord unit. In turn this will also illuminate the reset unit and trigger the internal sounder. At the same time the Overdoor indicator/sounder unit will illuminate and trigger it's own internal sounder. Flush Mounted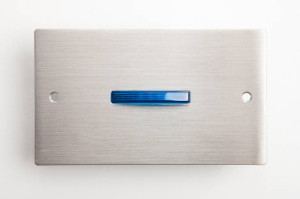 CSHK1/PSU/SS
The Stainless steel overdoor indicator/Sounder unit is supplied with an integral power supply unit. A fused spur should be fitted nearby and wired to this unit to provide power. The unit will illuminate and sound as soon as a call is activated. The unit will cease once the reset switch is pressed. Flush Mounted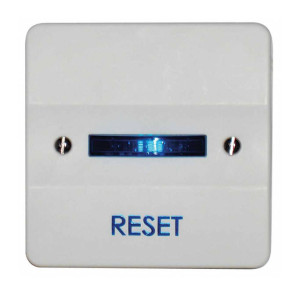 CSHK1/RS
The reset unit has a blue engraved legend 'RESET'. When a call is activated the reset switch illuminates and the internal sounder activates. The call is reset by simply pressing the reset switch. The reset switch is supplied with Braille legend on the switch piece.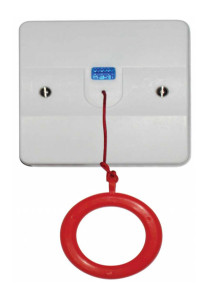 CSHK1/PC
The pull cord unit is supplied with a red plastic ring. An extra ring is supplied to conform to 'Approved Document M'. The second ring should be fitted lower down near floor level. Activating a call is simply made by pulling the cord. This will activate the re-assurance indicator on the pull cord unit. In turn this will also illuminate the reset unit and trigger the internal sounder. At the same time the Overdoor indicator/sounder unit will illuminate and trigger it's own internal sounder.
CSHK1/PSU
The Overdoor indicator/Sounder unit is supplied with an integral Power supply unit. A fused spur should be fitted nearby and wired to this unit to provide power. The unit will illuminate and sound as soon as a call is activated. The unit will cease once the reset switch is pressed.